Take a look at my business card…
I made it myself, on my computer. I used off-white, perforated paper. The logo is blurry and cut off on the edge. The font is boring. The phone number is incorrect, so I crossed it out and wrote the correct number.
Sometimes, when I meet a new person networking, I'll give that person this card. Then I'll ask, "How do you feel about me as a business professional, based on that card?" He or she is usually too polite to say anything negative, so there might be an awkward pause. I quickly take the card back and say, "This is my real business card."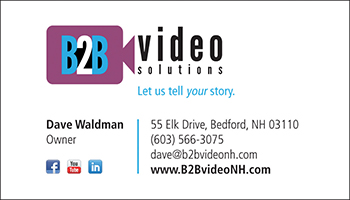 Then I explain, "This is what I do with video." You'd never give out a home-made business card. Consider what you're saying about your business if you use home-made video.
Marketing your business with quality, professional video may be more affordable than you think. Give us a call.
Dave Waldman is a video storyteller and owner of Treasured Memories Video and B2B Video Solutions in Bedford, New Hampshire. He can be reached at (603) 566-3075 or [email protected]. His website is davidwaldman.com.